The Love of God is expressed through Jesus Christ because through Jesus Christ we received redemption, reconciliation, and salvation that we did not deserve. That is the epitome of God's Love. That He did everything for us, when we didn't deserve it, just because He loved us and nothing else.
Dear God, my heart will always rejoice when I think of your love and the Grace you have gifted me with. It is because of your Son, Jesus Christ, I am free from the power of sin and death. I no longer have to fear death and destruction or the threats of the enemy because I am resting and hidden in Christ. In Jesus' name, I pray. Amen.
There are no words that can fully describe God, His love, or what it means to believe. It is with actions and feelings that God's love can be conveyed. Saying that you believe in Jesus is one thing. Believing in Jesus is another one entirely. Believe in Christ and you shall be saved. Confess your love for Him, for Christ is the Lord.
The Church Has Turned Their Backs on Widows and Orphans. "I Know the Peckville Assembly of God as turned Their Backs on ME!"
I have called Peckville Assembly of God, in Peckville Pennsylvania for help more then once for a ride to church. I have called the churches office a few times for help with Domestic Violence issues. Pastor Terry let the office email addresses for safe houses. The Women's Resource Center in Scranton turned me as well.
Churches today have forgot Who Jesus really is. The is to help widows and orphans but they don't.
Pastor Terry, Jesus slept on the ground. Your IPHONE has nothing on my Lord and Saviour Jesus Christ.
Because we have been shown extravagant love, we are called to love others. When we think of those society tends to forget (the widows, the orphans, the strangers, and the poor), it is up to us to extend love, mercy, and compassion. But, this verse also goes further than just helping those in need, we must also avoid even thinking evil against others in are heart. Our hearts should be brimming over with love and compassion because we are Christ followers.
Dear God, thank you for sending your son, Jesus Christ, to save us from our sins and show us what true love looks like. As we go through our days, give us eyes to see those who need your love today. Help us to help those who are suffering and forgotten. Let us be your hands and feet, O Lord. And, Father, forgive us for the times we have had evil thoughts against anyone else. We know we are all your children and we are precious to you, so remind us to treat others as you would treat them. In Jesus' name, Amen.
How then shall they call on him in whom they have not believed? and how shall they believe in him of whom they have not heard? and how shall they hear without a preacher?
O death, where is thy sting? O grave, where is thy victory?
Dear believer, be eager to share the good news of Jesus Christ with those around you. If they do not hear the good news or have it preached to them, then they will not believe. As followers of Christ we are all told to share the gospel; the Lord uses His children to get His message across to His chosen ones. Do not be ashamed of the gospel, instead boldly proclaim with your life and deeds that Jesus Christ is Lord, and that He died and rose again for your sins and those of the world. Faith makes all things possible. Yet, man struggles with believing this is possible. We live amongst others who have suffered disappointments and may have grown bitter as a result. But, Jesus tells us "if" we believe, all things are possible. Believers must recognize this means all things are possible through Christ – not that all things are possible through the believer himself. Once we understand that God is capable of doing all things, we may have peace. Knowing all things are possible through God is sometimes all we need to face our struggles and overcome.
Let's face it. Death "stings." It seems a paltry term for something that can devastate our lives the way death does. But the pain is still "stinging." No one is safe from it. But in this passage, Paul triumphantly declares victory over death in this passage. He says "Oh, Death. Where is your victory?" He declares the sting of death to be gone. He gives hope in these words. He looks past the temporary moment here on this earth when death stings us, and focuses on the ultimate plan for death: defeat. Christ will be victorious over death and the children of God will never have to fear its sting again.
Dear God, when we are struggling with believing you will answer our prayers, help us to remember that you are capable of all things. Help us to place our trust in your promises and to believe that you know what we need and when we need it. Do not allow me to place faith in myself or anyone else but you, O Lord. Jesus, you are all we need. Give us peace knowing you have a plan for our lives. May our belief in you and your endless possibilities draw others to you. In Jesus' name, amen. Thank you God for revealing your message of salvation to me. Thank you for my belief and forgive me for my unbelief. I pray that You give me the courage to share the good news of Jesus Christ with those around me. I pray for the salvation of my family and friends. In Jesus' name I pray, Amen.
For ye have not received the spirit of bondage again to fear; but ye have received the Spirit of adoption, whereby we cry, Abba, Father.
The worship team of Bethel Church released a song in 2015 called "No Longer Slaves." The lyrics read "I'm no longer a slave to fear./ I am a child of God." The lyrics of this song were taken directly from this scripture. As children of God, we are adopted into His family, with 100% of the rights and privileges that come with that distinction. We do not have to skulk around the outskirts, eating table scraps and fearing punishment. We are fully bought by the blood of Jesus Christ. That makes us full blooded children of the Highest God! We are no longer enslaved by those things which once bound us. We are free in the Spirit of the Lord and by the sacrifice of our loving Savior.
Precious Lord, Thank you for removing my yoke of bondage. Thank your for taking me into Your family and making me Your very own. Erase the slave mentality that trips me up sometimes and replaces it with the confidence that I belong to You. Amen.
Much more then, being now justified by his blood, we shall be saved from wrath through him.For if, when we were enemies, we were reconciled to God by the death of his Son, much more, being reconciled, we shall be saved by his life.
Everyone knows that "blood is thicker than water." Those we are bound to by blood, no matter how at odds we may be with them from time to time, are permanently tied to us. Those related to us by blood ties receive our loyalty. Just ask any brother and sister. No matter how much they may scrap and fight amongst themselves, they will protect each other from outside threats at all costs. We may say all kinds of things about our family, but let someone outside that circle speak against them and our wrath is unleashed. The blood that Christ shed for us has bound us to Him in an inextricable way. He has grafted us into His family and now we are under the protection He affords His family. Considering that, even when we were lost in our unrighteousness, Christ loved us and gave His life for us. He reconciled us to His Father and made us a permanent part of the family. And He did this even while we were "enemies" of God. How much more is in store for us now that we have come to know and love the Lord? How much more joy will we know now that we are reconciled with Him? Because of the blood sacrifice Christ made on Calvary, the best is yet to come for us.
Lord, I can never thank you enough for the blood You shed for me. Your sacrifice made me a part of Your family and brought with it all of the rewards of belonging to the family of God. You did for me what I could never have done for myself: You reconciled me with the Father. You gave me, by Your sacrifice, a way to commune with God–something that would have lost to me forever. Thank you for loving me, even when I was at my most sinful. Help me to never take Your sacrifice for granted. Amen.
That ye put off concerning the former conversation the old man, which is corrupt according to the deceitful lusts;
Have you ever "put someone off"? You know, that person who keeps asking if you want to go out for coffee, or that acquaintance who is now selling candles or totes or leggings and who keeps inviting you to her online party? It's not that we don't like these people; it is simply that their persistence has caused us to lose interest in them. Sometimes we may be "put off" by something offensive that someone has said, and it changes our perception of that person. Or maybe we go to our favorite restaurant and see a mouse scurry across the dining room. That is surely "off putting." Old timers used to talk about being "put off their feed," when referencing something that made them nauseated. It is interesting that the Bible instructs us to put off or avoid conversations with the "old man"– our former self. We are to avoid entertaining our old, sinful selves lest we begin thinking like our old sinful selves, which are corrupt and deceitful. How is that we have the sense to put off annoying or unappetizing people, but have to be reminded to put off our sinful nature, which seeks to destroy us? If we allow ourselves to reminded of this admonition, then the next time the "old man" comes calling, we'll be quick to "put him off."
Father, thank you for reminding me that I am a new creature in you. Through you, I am not who I once was. Help me to stay away from any likeness of my former sinful self. You have warned me to put off conversations with my old self so that I don't dwell on my past. Help me to keep moving forward into the life that You have planned for me. Thank you for Your grace and mercy. Thank you for second, third, fourth chances. Thank you for making me new and help me remember that Your mercies are made new in me every day. Amen.
Mark's gospel continues with a list of those things that make defile the man: evil thoughts, sexual sins, thefts, murders, adulteries, coveting, wickedness, deceit, lustful desires, an evil eye, blasphemy, pride and foolishness.
Take a good look at the list. How many of these evils are now in vogue as opposed to being considered to be sins. The ads we see are designed to make us covet our neighbor's goods, lifestyle and often, his wife. People climb all over others to get to the top in business. Pride makes us think that we deserve more than our share and there's no point in talking about fornication or adultery because we are so past seeing the wrongdoing in either of those. Just listen to the music, watch a movie or television program, not to mention the ads, and we get the picture that this is just normal behavior. Jesus was quite specific in this teaching. Just because everyone is doing it, does that make it right? No wonder our world is in such a mess. Do today's Christians even read the Bible? If so, how do we justify our actions or turn a blind eye to the actions of others? Let us take a good look at what "comes out of us" and make sure that we eliminate anything that defiles us.
Sin, abuse, neglect, rejection, betrayal…all cause great emotional and spiritual pain that hurt just as physical pain does. God, our Great Physician can completely heal our broken hearts and bind our wounds, healing, and making us whole. Spiritual and emotional healing is often a process with steps that we need to put action behind. Use the following Bible verses to guide your heart and mind toward full recovery.
Jerusalem's Women Judged Isaiah 3:16 – The LORD also says: Because the daughters of Zion are haughty, walking with heads held high and seductive eyes, prancing along, jingling their ankle bracelets, 17 – the LORD will put scabs on the heads of the daughters of Zion, and the LORD will shave their foreheads bare.
18- On that day the LORD will strip their finery: ankle bracelets, headbands, crescents, 19- pendants, bracelets, veils, 20- headdresses, ankle jewelry, sashes, perfume bottles, amulets, 21- signet rings, nose rings, 22- festive robes, capes, cloaks, purses, 23- garments, linen clothes, turbans and shawls.
24- Instead of purfume there will be a stench; instead of a belt, a robe; instead of beautifully styled hair, baldness; instead of fine clothes, sackcloth; instead of beauty, branding.
25- Your men will fall by the sword, your men will fall by the sword, your warriors in battle.
26- Then her gates will lament and mourn; deserted, she will sit on the ground.
4:1 On that day seven women will seize one man, saying, "We will eat our own bread and provide our own clothing. Just let us bear your name. Take away our disgrace."
Among the outward means by which the religion of Israel was preserved, one of the most important was the centralisation and localisation of its worship in Jerusalem. If to some the ordinances of the Old Testament may in this respect seem narrow and exclusive, it is at least doubtful, whether without such a provision Monothsiem itself could have continued as a creed or a worship. In view of the state of the ancient world, and of the tendencies of Israel during the earlier stages of their history, the strictest isolation was necessary in order to preserve the religion of the Old Testament from that mixture with foreign elements which would speedily have proved fatal to its existence. And if one source of Among the outward means by which the religion of Israel was preserved, one of the most important was the centralisation and localisation of its worship in Jerusalem. If to some the ordinances of the Old Testament may in this respect seem narrow and exclusive, it is at least doubtful, whether without such a provision Monothsiem itself could have continued as a creed or a worship. In view of the state of the ancient world, and of the tendencies of Israel during the earlier stages of their history, the strictest isolation was necessary in order to preserve the religion of the Old Testament from that mixture with foreign elements which would speedily have proved fatal to its existence. And if one source of whether for forgiveness of sin, or for fellowship with God. Here, in the impenetrable gloom of the innermost sanctuary, which the High-Priest alone might enter once a year for most solemn expiation, had stood the Ark, the leader of the people into the Land of Promise, and the footstool on which the Schechinah had rested. From that golden altar rose the cloud in incense, symbol of Israel's accepted prayers; that seven-branched candlestick shed its perpetual light, indicative of the brightness of God's Covenant Presence; on that table, as it were before the face of Jehovah, was laid, week by week, 'the Bread of the Face,' [1 Such is the literal meaning of what is translated by 'shewbread.'] a constant sacrificial meal which Israel offered unto God, and wherewith God in turn fed His chosen priesthood. On the great blood-sprinkled altar of sacrifice smoked the daily and festive burnt-offerings, brought by all Israel, and for all Israel, wherever scattered; while the vast courts of the Temple were thronged not only by native Palestinians, but literally by 'Jews out of every nation under heaven.' Around this Temple gathered the sacred memories of the past; to it clung the yet brighter hopes of the future. The history of Israel and all their prospects were intertwined with their religion; so that it may be said that without their religion they had no history, and without their history no religion. Thus, history, patriotism, religion, and hope alike pointed to Jerusalem and the Temple as the centre of Israel's unity. Nor could the depressed state of the nation alter their views or shake their confidence. What mattered it, that the Idumaean, Herod, had unsurped the throne of David, expect so far as his own guilt and their present subjection were concerned? Israel had passed through deeper waters, and stood triumphant on the other shore. For centuries seemingly hopeless bondsmen in Egypt, they had not only been delivered, but had raised the God-inspired morning-song of jubilee, as they looked back upon the sea cleft for them, and which had buried their oppressors in their might and pride. Again, for weary years had their captives hung Zion's harps by the rivers of that city and empire whose colossal grandeur, wherever they turned, must have carried to the scattered strangers the desolate feeling of utter hopelessness. And yet that empire had crumbled into dust, while Israel had again taken root and sprung up. And now little more than a century and a half had passed, since a danger greater even than any of these had threatened the faith and the very existence of Israel. In his daring madness, the Syrian king, Antiochus IV. Epiphanes had forbidden their religion, sought to destroy their sacred books, with unsparing ferocity forced on them conformity to heathen rites, desecrated the Temple by dedicating it to Zeus Olympios, what is translated by 'shewbread.' a constant sacrificial and even reared a heathen altar upon that of burnt-offering. [2 Macc. 1:54, 59; Jos. Ant. 12:5. 4.] Worst of all, his wicked schemes had been aided by two apostate High-Priests, who had outvied each other in buying and then prostituting the sacred office of God's anointed. [1 After the deposition of Onias III. through the bribery of his own brother Jason, the latter and Menelaus outvied each other in bribery for, and prostitution of, the holy office.] Yet far away in the mountains of Ephraim [2 Modin, the birthplace of the Maccabees, has been identified with the modern El-Medyeh, about sixteen miles northwest of Jerusalem, in the ancient territory of Ephraim. Comp. Conder's Handbook of the Bible, p. 291; and for a full reference to the whole literature of the subject, see Schurer (Neutest. Zeitgesch. p. 78, note 1).] God had raised for them most unlooked-for and unlikely help. Only three years later, and, after a series of brilliant victories by undisciplined men over the flower of the Syrian army, Judas the Maccabee, truly God's Hammer [3 On the meaning of the name Maccabee, comp. Grimm's Kurzgef. Exeget. Handb. z. d. Apokr. Lief. iii., pp. ix. x. We adopt the derivation from Maqqabha, a hammer, like Charles Martel.] had purified the Temple, and restored its altar on the very same day [4 1 Macc. 1. 54.] on which the 'abomination of desolation' [5 1 Macc. 4:52-54:] Megill. Taan. 23. had been set up in its place. In all their history the darkest hour of their night had ever preceded the dawn of a morning brighter than any that had yet broken. It was thus that with one voice all their prophets had bidden them wait and hope. Their sayings had been more than fulfilled as regarded the past. Would they not equally become true in reference to that far more glorious future for Zion and for Israel, which was to be ushered in by the coming of the Messiah? Nor were such the feelings of the Palestinian Jews only. These indeed were now a minority. The majority of the nation constituted what was known as the dispersion; a term which, however, no longer expressed its original meaning of banishment by the judgment of God, [6 Alike the verb in Hebrew, and in Greek, with their derivatives, are used in the Old Testament, and in the rendering of the LXX., with reference to punitive banishment. See, for example, Judges 18:30; 1 Samuel 4:21; and in the LXX. Deuteronomy 30:4; Ps. 147:2; Is. 49:6 and other passages.] since absence from Palestine was now entirely voluntary. But all the more that it referred not to outward suffering, [7 There is some truth, although greatly exaggerated, in the bitter remarks of Hausrath (Neutest. Zeitgesch. ii. p. 93), as to the sensitiveness of the Jews in the, and the loud outcry of all its members at any interference with them, however trivial. But events unfortunately too often proved how real and near was their danger, and how necessary the caution 'Obsta principiis.'] did its continued use indicate a deep feeling of religious sorrow, of social isolation, and of political strangership [8 St. Peter seems to have used it in that sense, 1 Pet. 1:1.] in the midst of a heathen world. For although, as Josephus reminded his countrymen, [Jew. W 2:16. 4.] there was 'no nation inthe world which had not among them part of the Jewish people,' since it was 'widely dispersed over all the world among its inhabitants,' [b 7:3.3.] yet they had nowhere found a real home. A century and a half before our era comes to us from Egypt [1 Comp. the remarks of Schneckenburger (Vorles u. Neutest. Zeitg. p. 95).] ,where the Jews possessed exceptional privileges, professedly from the heathen, but really fdrom the Jewish [2 Comp. Friedlieb, D. Sibyll. Weissag. 22:39.] Sibyl, this lament of Israel:, Crowding with thy numbers every ocean and country, Yet an offense to all around thy presence and customs! [3 Orac Sibyll. 3:271,272, apud Friedlieb, p. 62.] Sixty years later the Greek geographer and historian Strabo bears the like witness to their presence in every land, but in language that shows how true had been the complaint of the Sibyl. [4 Strabo apud Jos. Ant. 14:7.2: 'It is not easy to find a place in the world that has not admitted this race, and is not mastered by it.'] The reasons for this state of feeling will by-and-by appear. Suffice it for the present that, all unconsciously, Philo tells its deepest ground, and that of Israel's loneliness in the heathen world, when speaking, like the others, of his countrymen as in 'all the cities of Europe, in the provinces of Asia and in the islands,' he describes them as, wherever sojourning, having but one metropolis, not Alexandria, Antioch, or Rome, but 'the Holy City with its Temple, dedicateda to the Most High God.' [5 Philo in Flaccum (ed. Francf.), p. 971.] A nation, the vast majority of which was dispersed over the whole inhabited earth, had ceased to be a special, and become a world-nation. [6 Comp. Jos. Ant. 12:3; 13:10. 4; 13. 1; 14:6. 2; 8. 1; 10. 8; Sueton. Caes. 85.] Yet its heart beat in Jerasulem, and thence the life-blood passed to its most distant members. And this, indeed, if we rightly understand it, was the grand object of the 'Jewish dispersion' throughout the world. What has been said applies, perhaps, in a special manner, to the Western, rather than to the Eastern 'dispersion.' The connection of the latter with Palestine was so close as almost to seem one of continuity. In the account of the truly representative gathering in Jerusalem on that ever-memorable Feast of Weeks, [a Acts
hand, the Trans-Euphratic Jews, who 'inhabited Babylon and many of the other satrapies,'[c Philo ad Cajum, p. 1023; Jos. Ant. 15:3.1.] were included with the Palestinians and the Syrians under the term 'Hebrews,' from the common language which they spoke. But the difference between the 'Grecians' and the 'Hebrews' was far deeper than merely of language, and extended to the whole direction of thought. There were mental influences at work in the Greek world from which, in the nature of things, it was impossible even for Jews to withdraw themselves, and which, indeed, were as necessary for the fulfillment of their mission as their isolation from heathenism, and their connection with Jerusalem. At the same time it was only natural that the Hellenists, placed as they were in the midst of such hostile elements, should intensely wish to be Jews, equal to their Eastern brethren. On the other hand, Pharisaism, in its pride of legal purity and of the possession of traditional lore, with all that it involved, made no secret of its contempt for the Hellenists, and openly declared the Grecian far inferior to the Babylonian 'dispersion.' [1 Similarly we have (in Men. 110a) this curious explanation of Is. 43:6: 'My sons from afar', these are the exiles in Babylon, whose minds were settled, like men, 'and my daughters from the ends of the earth', these are the exiles in other lands, whose minds were not settled, like women.] That such feelings, and the suspicions which they engendered, had struck deep into the popular mind, appears from the fact, that even in the Apostolic Church, and that in her earliest days, disputes could break out between the Hellenists and the Hebrews, arising from suspicion of unkind and unfair dealings grounded on these sectional prejudices. [d Acts 6:1.] Far other was the estimate in which the Babylonians were held by the leaders of Judaism. Indeed, according to one view of it, Babylonia, as well as 'Syria' as far north as Antioch, was regarded as forming part of the land of Israel. [Ber. R. 17.] Every other country was considered outside 'the land,' as Palestine was called, witht the exception of Babylonia, which was reckoned as part of it. [e Erub. 21 a Gritt. 6 a.] For Syria and Mesopotamia, eastwards to the banks of the Tigris, were supposed to have been in the territory which King David had conquered, and this made them ideally for ever like the land of Israel. But it was just between the Euphrates and the Tigris that the largest and wealthiest settlements of the Jews were, to such extent that a later writer actually designated them 'the land of Israel.' Here Nehardaa, on the Nahar Malka, or royal canal, which passed from the Euphrates to the Tigris, was the oldest Jewish settlement. It boasted of a Synagogue, said to have been built by King Jechoniah with stones that had been brought from the Temple. [1 Comp. Furst, Kult. u. Literaturgesch d. Jud. in Asien, vol. i. p. 8.] In this fortified city the vast contributions intended for the Temple were deposited by the Eastern Jews, and thence conveyed to their destination under escort of thousands of armed men. Another of these Jewish treasure-cities was Nisibis, in northern Mesopotamia. Even the fact that wealth, which must have sorely tempted the cupidity of the heathen, could be safely stored in these cities and transported to Palestine, shows how large the Jewish population must have been, and how great their general influence. In general, it is of the greatest importance to remember in regard to this Eastern dispersion, that only a minority of the Jews, consisting in all of about 50,000, originally returned from Babylon, first under Zerubbabel and afterwards under Ezra. [a 537 B.C., and 459-'8 B.C.] Nor was their inferiority confined to numbers. The wealthiest and most influential of the Jews remained behind. According to Josephus, [b Ant. 11:5. 2; 15:2. 2; 18:9.] with whom Philo substantially agrees, vast numbers, estimated at millions, inhabited the Trans-Euphratic provinces. To judge even by the number of those slain in popular risings (50,000 in Seleucia alone [2 Jos. Ant. 18:9. 9.] ),these figures do not seem greatly exaggerated. A later tradition had it, that so dense was the Jewish population in the Persian Empire, that Cyrus forbade the further return of the exiles, lest the country should be depopulated. [3 Midrash on Cant. 5:5 ed. Warsh. p. 26 a.] So large and compact a body soon became a political power. Kindly treated under the Persian monarchy, they were, after the fall of that empire, [c 330 B. C.] favoured by the successors of Alexander. When in turn the Macedono-Syrian rule gave place to the Parthian Empire, [d 63 B.C.] the Jews formed, from their national opposition to Rome, an important element in the East. Such was their influence that, as late as the year 40 A.D., the Roman legate shrank from provoking their hostility. [4 Philo ad Caj.] At thesame time it must not be thought that, even in these favoured regions, they were wholly without persecution. Here also history records more than one tale of bloody strife on the part of those among whom they dwelt. [5 The following are the chief passages in Josephus relating to that part of Jewish history: Ant. 11:5. 2; 14:13. 5; 15:2. 7; 3. 1; 17:2. 1-3; 18:9. 1, &c.; 20:4. Jew. W. 1:13. 3.] To the Palestinians, their brethren of the East and of Syria, to which they had wandered under the fostering rule of the Macedono-Syrian monarchs (the Seleucidae), were indeed pre-eminently the Golah, or 'dispersion.' To them the Sanhedrin in Jerusalem intimated by fire-signals from mountain-top to mountain-top the commencement of each month for the regulation of the festive calendar, [1 Rosh. haSh. 2:4; comp. the Jer. Gemara on it, and in the Bab. Talmud 23 b.] even as they afterwards despatched messengers into Syria for the same purpose. [2 Rosh. haSh. 1:4.] In some respects the Eastern dispersion was placed on the same footing; in others, on even a higher level than the mothercountry. Tithes and Terumoth, or first-fruits in a prepared condition, [3 Shev. vi. passim; Gitt. 8 a.] were due from them, while the Bikkurim, or first-fruits in a fresh state, were to be brought from Syria to Jerusalem. Unlike the heathen countries, whose very dust defiled, the soil of Syria was declared clean, like that of Palestine itself. [a Ohol. 23:7.] So far as purity of descent was concerned, the Babylonians, indeed, considered themselves superior to their Palestinian brethren. They had it, that when Ezra took with him those who went to Palestine, he had left the land behind him as pure as fine flour. [b Kidd. 69.] To express it in their own fashion: In regard to the genealogical purity of their Jewish inhabitants, all other countries were, compared to Palestine, like dough mixed with leaven; but Palestine itself layson this point. [d Life i.; Ag Apion 1:7.] Official records of descent as regarded the priesthood were kept in the Temple. Besides, the Jewish authorities seem to have possessed a general official register, which Herod afterwards ordered to be burnt, from reasons which it is not difficult to infer. But from that day, laments a Rabbi, the glory of the Jews decreased! [6 Pes. 62 b; Sachs,Beitr. vol. ii. p. 157.] Nor was it merely purity of descent of which the Eastern dispersion could boast. In truth, Palestine owed everything to Ezra, the Babylonian, [1 According to tradition he returned to Babylon, and died there. Josephus says that he died in Jerusalem (Anti. 11:5. 5).] a man so distinguished that, according to tradition, the Law would have been given by him, if Moses had not previously obtained that honor. Putting aside the various traditional ordinances which the Talmud ascribes to him, [2 Herzfeld has given a very clear historical arrangement of the order in which, and the persons by whom, the various legal determinations were supposed to have been given. See Gesch. d. V. Isr. vol. iii. pp. 240 &c.] we know from the Scriptures what his activity for good had been. Altered circumstances had brought many changes to the new Jewish State. Even the language, spoken and written, was other than formerly. Instead of the characters anciently employed, the exiles brought with them, on their return, those now common, the so-called square Hebrew letters, which gradually came into general use. [a Sanh. 21 b.] [3 Although thus introduced under Ezra, the ancient Hebrew characters, which resemble the Samaritan, only very gradually gave way.
They are found on monuments and coins.] The language spoken by the Jews was no longer Hebrew, but Aramaean, both in Palestine and in Babylonia; [4 Herzfeld (u. s. vol. iii. p. 46) happily designates the Palestinian as the Hebraeo-Aramaic, from its Hebraistic tinge. The Hebrew, as well as the Aramaean, belongs to the Semitic group of languages, which has thus been arranged: 1. North Semitic: Punico-Phoenician, Hebrew, and Aramaic (Western and Eastern dialects). 2. South Semitic: Arabic, Himyaritic, and Ethipian. 3. East Semitic: The Assyro-Baylonian cuneiform. When we speak of the dialect used in Palestine, we do not, of course, forget the great influence of Syria, exerted long before and after the Exile. Of these three branches the Aramaic is the most closely connected with the Hebrew. Hebrew occupies an intermediate positionThey are found on monuments and coins.] The language spoken by the Jews was no longer Hebrew, but Aramaean, both in Palestine and in Babylonia; [4 Herzfeld (u. s. vol. iii. p. 46) happily designates the Palestinian as the Hebraeo-Aramaic, from its Hebraistic tinge. The Hebrew, as well as the Aramaean, belongs to the Semitic group of languages, which has thus been arranged: 1. North Semitic: Punico-Phoenician, Hebrew, and Aramaic (Western and Eastern dialects). 2. South Semitic: Arabic, Himyaritic, and Ethipian. 3. East Semitic: The Assyro-Baylonian cuneiform. When we speak of the dialect used in Palestine, we do not, of course, forget the great influence of Syria, exerted long before and after the Exile. Of these three branches the Aramaic is the most closely connected with the Hebrew. Hebrew occupies an intermediate position between the Aramaic and the Arabic, and may be said to be the oldest, certainly from a literary point of view. Together with the introduction of the new dialect into Palestine, we mark that of the new, or square, characters of writing. The Mishnah and all the kindred literature up to the fourth century are in Hebrew, or rather in a modern development and adaptation of that language; the Talmud is in Aramaean. Comp. on this subject: DeWette-Schrader, Lehrb. d. hist. kr. Eink. (8 ed.) pp. 71-88; Herzog's Real-Encykl. vol. 1:466, 468; 5:614 &c., 710; Zunz, Gottesd. Vortr. d. Jud. pp. 7-9; Herzfeld, u.s. pp. 44 &c., 58&c.] in the former the Western, in the latter the Eastern dialect. In fact, the common people were ignorant of pure Hebrew, which henceforth became the language of students and of the Synagogue. Even there a Methurgeman, or interpreter, had to be employed to translate into the vernacular the portions of Scripture read in the public services, [5 Could St. Paul have had this in mind when, in referring to the miraculous gift of speaking in other languages, he directs that one shall always interpret (1 Cor. 14:27)? At any rate, the word targum in Ezra 4:7 is rendered in the LXX. by The following from the Talmud (Ber. 8 a and b) affords a curious illustration of 1 Cor. 14:27: 'Let a man always finish his Parashah (the daily lesson from the Law) with the congregation (at the same time), twice the text, and once targum.']. and the address delivered by the Rabbis. This was the origin of the so-called Targumim, or paraphrases of Scripture. In earliest times, indeed, it was forbidden to the Methurgeman to read his translation or to write down a Targum, lest the paraphrase should be regarded as of equal authority with the original. It was said that, when Jonathan brought out his Targum on the Prophets, a voice from heaven was heard to utter: 'Who is this that has revealed My secrets to men?' [a Megill. 3.] Still, such Targumim seem to have existed from a very early period, and, amid the varying and often incorrect renderings, their necessity must have made itself increasingly felt. Accordingly, their use was authoritatively sanctioned before the end of the second century after Christ. This is the origin of our two oldest extant Targumim: that of Onkelos (as it is called), on the Pentateuch; and that on the Prophets, attributed to Jonathan the son of Uzziel. These names do not, indeed, accurately represent the authorship of the oldest Targumim, which may more correctly be regarded as later and authoritative recensions of what, in some form, had existed before. But although these works had their origin in Palestine, it is noteworthy that, in the form in which at present we possess them, they are the outcome of the schools of Babylon. But Palestine owed, if possible, a still greater debt to Babylonia. The new circumstances in which the Jews were placed on their return seemed to render necessary an adaptation of the Mosaic Law, if not new legislation. Besides, piety and zeal now attached themselves to the outward observance and study of the letter of the Law. This is the origin of the Mishnah, or Second Law, which was intended to explain and supplement the first. This constituted the only Jewish dogmatics, in the real sense, in the study of which the sage, Rabbi , scholar, scribe, and Carshan, [1 From darash, to search out, literally, to tread out. The preacher was afterwards called the Darshan.] were engaged. The result of it was the Midrash, or investigation, a term which afterwards was popularly applied to commentaries ont he Scriptures and preaching. From the outset, Jewish theology divided into two branches: the Halakhah and the Haggadah. The former (from halakh, to go) was, so to speak, the Rule of the Spiritual Road, and, when fixed, had even greater authority than the Scriptures of the Old Testament, since it explained and applied them. On the other hand, the since it explained and applied them. On the other hand, the Haggadah [2 The Halakhah might be described as the apocryphal Pentateuch, the personal saying of the teacher, more or less valuable according to his learning and popularity, or the authorities which he could quote in his support. Unlike the Halakhah, the Haggadah had no absolute authority, either as to doctrine practice, or exegesis. But all the greater would be its popular influence, [1 We may here remind ourselves of 1 Tim. 5:17. St. Paul, as always, writes with the familiar Jewish phrases ever recurring to his mind. The expression seems to be equivalent to Halakhic teaching. Comp. Grimm, Clavis N. T. pp. 98, 99.] and all the more dangerous the doctrinal license which it allowed. In fact, strange as it may sound, almost all the doctrinal teaching of the Synagogue is to be derived from the Haggadah and this also is characteristic of Jewish traditionalism. But, alike in Halakhah and Haggadah, Palestine was under the deepest obligation to Babylonia. For the father of Halakhic study was Hillel, the Babylonian, and among the popular Haggadists there is not a name better known than that of Eleazar the Mede, who flourished in the first century of our era. After this, it seems almost idle to inquire whether, during the first period after the return of the exiles from Babylon, there were regular theological academies in Babylon. Although it is, of course, impossible to furnish historical proof, we can scarely doubt that a community so large and so intensely Hebrew would not have been indifferent to that study, which constituted the main thought and engagement of their brethren in Palestine. We can understand that, since the great Sanhedrin in Palestine exercised supreme spiritual authority, and in that capacity ultimately settled all religious questions, at least for a time, the study and discussion of these subjects should also have been chiefly carried on in the schools of Palestine; and that even the great Hillel himself, when still a poor and unknown student, should have wandered thither to acquire the learning and authority, which at that period he could not have found in his own country. But even this circumstance implies, that such studies were at least carried on and encouraged in Babylonia. How rapidly soon afterwards the authority of the Babylonian schools increased, till they not only overshadowed those of Palestine, but finally inherited their prerogatives, is well known. However, therefore, the Palestinians in their pride or jealousy might sneer, [2 In Moed Q. 25 a. sojourn in Babylon is mentioned as a reason why the Shekhinah could not rest upon a certain Rabbi.] that the Babylonians were stupid, proud, and poor ('they ate bread upon bread'), [3 Pes. 34 b; Men. 52 a; Sanh. 24 a; Bets. 16 a, apud Neubauer, Geog. du Talmud, p. 323. In Keth. 75 a, they are styled the 'silly Babylonians.' See also Jer. Pes. 32 a.] even they had to acknowledge that, 'when the Law had fallen into oblivion, it was restored by Ezra of Babylon; when it was a second time forgotten, Hillel the Babylonian came and recovered it; and when yet a third time it fell into oblivion, Rabbi Chija came from Babylon and gave it back once more.' [4 Sukk. 20 a. R. Chija, one of the teachers of the second century, is among the most.celebrated Rabbinical authorities, around whose memory legend has thrown a special halo.] Such then was that Hebrew dispersion which, from the first, constituted Such then was that Hebrew dispersion which, from the first, constituted really the chief part and the strength of the Jewish nation, and with which its religious future was also to lie. For it is one of those strangely significant, almost symbolical, facts in history, that after the destruction of Jerusalem the spiritual supremacy of Palestine passed to Babylonia, and that Rabbinical Judaism, under the stress of political adversity, voluntarily transferred itself to the seats of Israel's ancient dispersion, as if to ratify by its own act what the judgment of God had formerly executed. But long before that time the Babylonian 'dispersion' had already stretched out its hands in every direction. Northwards, it had spread through Armenia, the Caucasus, and to the shores of the Black Sea, and through Media to those of the Caspian. Southwards, it had extended to the Persian Gulf and through the vast extent of Arabia, although Arabia Felix and the land of the Homerites may have received their first Jewish colonies from the opposite shores of Ethiopia. Eastwards it had passed as far as India. [1 In this, as in so many respects, Dr. Neubauer has collated very interesting information, to which we refer. See his Geogr. du Talm. pp. 369-399.] Everywhere we have distinct notices of these wanderers, and everywhere they appear as in closest connection with the Rabbinical hierarchy of Palestine. Thus the Mishnah, in an extremely curious section, [2 The whole section gives a most curious glimpse of the dress and ornaments worn by the jews at that time. The reader interested in the subject will find special information int he three little volumes of Hartmann (Die Hebraerin am Putztische), in N. G. Schroder's some-what heavy work: De Vestitu Mulier. Hebr., and especially in that interesting tractate, Trachten d. Juden, by Dr. A. Brull, of which, unfortunately, only one part has appeared.] tells us how on Sabbaths the Jewesses of Arabia might wear their long veils, and those of India the kerchief round the head, customary in those countries, without incurring the guilt of desecrating the holy day by needlessly carrying what, in the eyes of the law, would be a burden; [a Shabb. 6:6.] while in the rubric for the Day of Atonement we haveit noted that the dress which the High-Priest wore 'between the evenings' of the great fast, that is, as afternoon darkened into evening, was of most costly 'Indian' stuff. [b Yoma 3:7.] That among such a vast community there should have been poverty, and that at one time, as the Palestinians sneered, learning may have been left to pine in want, we can readily believe. For, as one of the Rabbis had it in explanation of Deuteronomy 30:13: 'Wisdom is not "beyond the sea", that is, it will not be found among traders or merchants,' [c Er. 55 a.] whose mind must be engrossed by gain. And it was trade and commerce which procured to the Babylonians their wealth and influence, although agriculture was not neglected. Their caravans, of whose camel drivers, by the way, no very flattering account is given [a Kidd. iv.], carried the rich carpets and woven stuffs of the East, as well as its precious spices, to the West: generally through Palestine to the Phoenician harbours, where a fleet of merchantmen belonging to Jewish bankers and shippers lay ready to convey them to every quarter of the world. These merchant princes were keenly alive to all that passed, not only in the financial, but in the political world. We know that they were in possession of State secrets, and entrusted with the intricacies of diplomacy. Yet, whatever its condition, this Eastern Jewish community was intensely Hebrew. Only eight days' journey, though, according to Philo's western ideas of it, by a difficult road [1 Philo ad Cajum, ed. Frcf. p. 1023.], separated them from Palestine; and every pulsation there vibrated in Babylonia. It was in the most outlying part of that colony, in the wide plains of Arabia, that Saul of Tarsus spent those three years of silent thought and unknown labour, which preceded his re-appearance in Jerusalem, when from the burning longing to labour among his brethren, kindled by long residence among these Hebrews of the Hebrews, he was directed to that strange work which was his life's mission. [b Gal. 1:17;] And it was among the same community that Peter wrote and laboured, [c 1 Pet. 5:13.] amidst discouragements of which we can form some conception from the sad boast of Nehardaa, that up to the end of the third century it had not numbered among its members any convert to Christianity. [2 Pes. 56 a, apud Neubauer, u. s., p. 351.] In what has been said, no notice has been taken of those wanderers of the ten tribes, whose trackless footsteps seem as mysterious as their after-fate. The Talmudists name four countries as their seats. But, even if we were to attach historic credence to their vague statements, at least two of these localities cannot with any certainty be identified. [3 Comp. Neubauer, pp. 315, 372; Hamburger, Real-Encykl. p. 135.] Only thus far all agree as to point us northwards, through India, Armenia, the Kurdish mountains, and the Caucasus. And with this tallies a curious reference in what is known as IV. Esdras, which locates them in a land called Arzareth, a term which has, with some probability, been identified with the land of Ararat. [4 Comp. Volkmar, Handb. d. Einl. in d. Apokr. iite Abth., pp. 193, 194, notes. For the reasons there stated, I prefer this to the ingenious interpretation proposed by Dr. Schiller-Szinessy (Journ. of Philol. for 1870, pp. 113, 114), who regards it as a contraction of Erez achereth, 'another land,' referred to in Deuteronomy 29:27 (28).] Josephus [a Ant. 11:5.2.] describes them as an innumerable multitude, and vaguely locates them beyond the Euphrates. The Mishnah is silent as to their seats, but discusses their future restoration; Rabbi Akiba denying and Rabbi Eliezer anticipating it. [b Sanh. 10:3.] [1 R. Eliezer seems to connect their return with the dawn of the new Messianic day.] Another Jewish tradition [c Ber. R. 73.] locates them by the fabled river Sabbatyon, which was supposed to cease its flow on the weekly Sabbath. This, of course, is an implied admission of ignorance of their seats. Similarly, the Talmud [d Jer. Sanb 29 c.]speaks of three localities whither they had been banished : the district around the river Sabbatyon; Daphne, near Antioch; while the third was overshadowed and hidden by a cloud. Later Jewish notices connect the final discovery and the return of the 'lost tribes' with their conversion under that second Messiah who, in contradistinction to 'the Son of David' is styled 'the Son of Joseph,' to whom Jewish tradition ascribes what it cannot reconcile with the royal dignity of 'the Son of David,' and which, if applied to Him, would almost inevitably lead up to the most wide concessions in the Christian argument. [2 This is not the place to discuss the later Jewish fiction of a second or 'suffering' Messiah, 'the son of Joseph,' whose special mission it would be to bring back the ten tribes, and to subject them to Messiah, 'the son of David,' but who would perish in the war against Gog and Magog.] As regards the ten tribes there is this truth underlying the strange hypothesis, that, as their persistent apostacy from the God of Israel and His worship had cut them off from his people, so the fulfilment of the Divine promises to them in the latter days would imply, as it were, a second birth to make them once more Israel. Beyond this we are travelling chiefly into the region of conjecture. Modern investigations have pointed to the Nestorians, [3 Comp. the work of Dr. Asahel Grant on the Nestorians. His arguments have been well summarised and expanded in an interesting note in Mr. Nutths Sketch of Samaritan History, pp. 2-4.] and latterly with almost convincing evidence (so far as such is possible) to the Afghans, as descended from the lost tribes. [4 I would here call special attention to a most interesting paper on the subject ('A New Afghan Question'), by Mr. H. W. Bellew, in the 'Journal of the United Service Institution of India,' for 1881, pp. 49-97.] Such mixture with, and lapse into, Gentile nationalities seems to have been before the minds of those Rabbis who ordered that, if at present a non-Jew weds a Jewess, such a union was to be respected, since the stranger might be a descendant of the ten tribes. [e Yebam 16 b.] Besides, there is reason to believe that part of them, at least, had coalesced with their brethren of the later exile; [5 Kidd. 69 b.] while we know that individuals who had settled in Palestine and, presumably, elsewhere, were able to trace descent from them.[1 So Anna from the tribe of Aser, St. Luke 2:36. Lutterbeck (Neutest. Lehrbegr. pp. 102, 103) argues that the ten tribes had become wholly undistinguishable from the other two. But his arguments are not convincing, and his opinion was certainly not that of those who lived in the time of Christ, or who reflected their ideas.] Still the great mass of the ten tribes was in the days of Christ, as in our own, lost to the Hebrew nation.
Aurelius Augustinus Hipponensis (354-430), better known as Augustine of Hippo, is extolled as the greatest of the Christian Church Fathers. More than any other writer, he developed what would become known as systematic theology, or an explanation of how Christianity fits into views of the universe, creation, and humankind's relationship with God.
When Martin Luther (1483-1546), a former Augustinian friar, protested against the Catholic Church, he created the Protestant Reformation utilizing the teachings of Augustine. Through the various Protestant denominations and their missions, the Christian Western tradition is indebted to the teachings of Augustine.
Two of Augustine's works are considered classics of Western literature: Confessions, which is deemed the first autobiography in the West, and City of God. Augustine left a catalogue that contains 113 books, 218 letters, and 500 sermons. His writings are among the most complicated of the Church Fathers because over the course of his life, he went back to a theological concept to update it as his thoughts evolved and he matured.
Early Life
Augustine was born in 354 CE in Thagaste, North Africa in the Roman province of Numidia, most likely in a family of Berber lineage. His father, Patrick, was a pagan, but his mother Monica, was a devout Christian. This was very common in the late Roman Empire. We do not know much about Patrick, but Monica was very ambitious for her son and admonished him to become a Christian to elevate his status. He must have been among what we deem the upper classes. Augustine had an excellent education in rhetoric, and education in schools of philosophy indicated leisure and funds to pursue such goals.
Upon Patrick's death in 370 CE, Augustine became a professor of rhetoric in Carthage. Joining some other intellectuals, he became interested in the Christian sect of the Manichaeans. A Persian Christian prophet, Mani (d. 254 CE), emphasized the polarity of good and evil along Zoroastrian and Gnostic philosophical principles. Although officially declared a heresy, the Manichaeans remained a popular sect in the Roman Empire and in the East along the Silk Road.
AUGUSTINE'S CONVERSION TO CHRISTIANITY IN 386 CE BECAME FAMOUS BECAUSE HE WROTE ABOUT IT IN DETAIL IN THE LATER CONFESSIONS.
What may have drawn Augustine to this group was the allowance of two tiers of participants. Mani only required celibacy and diet restrictions from the leaders. The second tier, the 'hearers' of Mani, did not have to become ascetics. At this time, Augustine began a 15-year relationship with a woman. There were still class restrictions involving marriage in late antiquity. You could marry into a different class, but ideally, it had to be marrying up, never down. Apparently, this woman was of a lower class. They had a son together, Adeodatus ("gift of God"), who died young.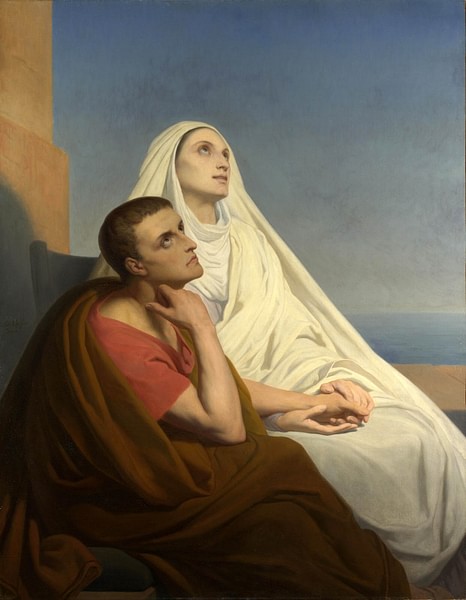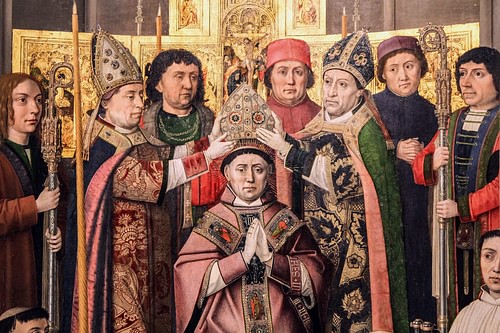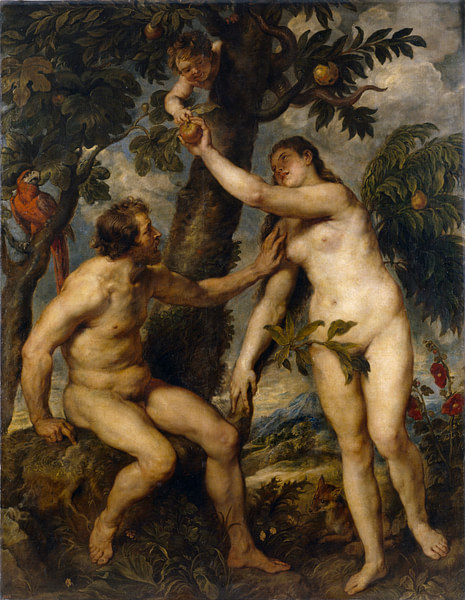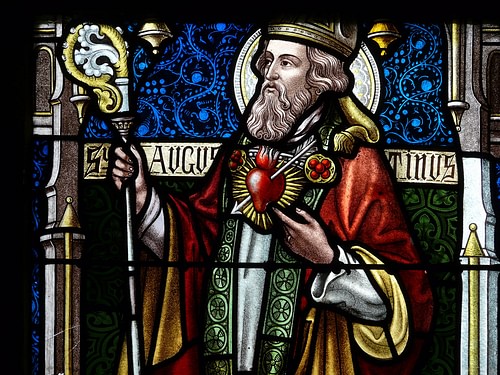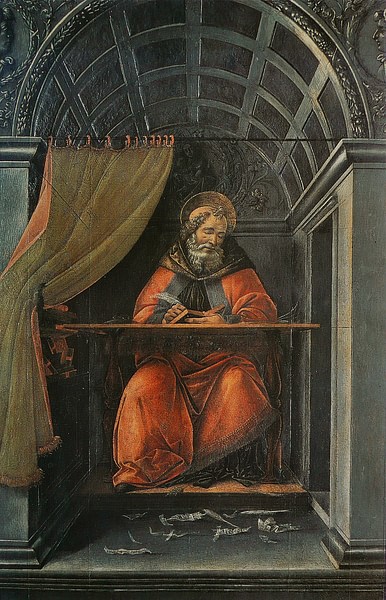 Disillusioned with his circle at Carthage, Augustine and Monica moved to Milan, Italy, where he won the position of rhetoric professor. Monica began negotiations for a marriage contract with a girl from a better family. Waiting for the girl to reach puberty, he established a relationship with another woman, as he later said, "because I was a slave to lust." It was in this period when he wrote, "Give me chastity and continence, but not just yet" (Confessions, Book 8.7).
Conversion
Augustine's conversion to Christianity in 386 CE became famous because he wrote about it in detail in the later Confessions (397 CE), a psychological retrospective of his life. An older Augustine analyzed the decisions he had made over time. Modern scholars tend to describe Augustine's search for meaning in life as an intellectual pursuit, rather than an emotional one. Nevertheless, the Confessions embodies a personal and spiritual struggle that is familiar to all humans.
ADVERTISEMENT
The bishop of Milan was Aurelius Ambrose (339-397 CE), a prominent and famous theologian. Augustine was intellectually interested in Ambrose's sermons, and would later adapt much of this teaching in his ideas. After the sermon, he would sit on a bench outside waiting for his mother. One day he heard what he thought was a child playing a sing-song game, 'Take up and read." When he did not see anyone, he realized that it was a supernatural calling. He said he found a New Testament and opened it to Paul's letter to the Romans. It changed his life and he became a Christian.Saints Augustine and MonicaAry Scheffer (Public Domain)
Monica was delighted. However, Augustine was a perfectionist. If he was going to be a Christian, then he was going to be a celibate Christian. Canceling the marriage negotiations, Monica then died. This was traumatic for Augustine and perhaps contributed to what became his metaphysics of guilt (reatus), the basic idea of which was that God made everything from nothing, and each created thing is good, with natural faculties. All owe a debt to God for their creation. When they misuse their faculties (sin), this misuse results in guilt because of the debt.
Bishop of Hippo
In Hippo, Augustine was elected bishop, built his own monastery, and became renowned for his sermons and teaching. He often presented public debates in town hall meetings, where he addressed continuing heresies in the province. He renounced his former connections and debated against the Manichaeans.
Saint Augustine Ordained a BishopFr Lawrence Lew, O.P. (CC BY-NC-ND)
Augustine's commitment to celibacy never bothered him in the physical sense. He now had his own body under control. But as a perfectionist, Augustine continued to be bothered by the fact that he still thought about sexual intercourse. He assumed that such thoughts would go away with old age, but when a 70-year-old parishioner announced the birth of a son, he was dismayed. His struggles with why he could not control his thoughts on this and other matters, led to a more difficult question: Why do people continue to sin when they know better (at least intellectually)?
In one of the most famous sections of the Confessions, Augustine related an incident when he was a teenager. He and his friends broke into a neighbor's garden and stole some pears. He thought about this incident over and over – none of them was hungry, none of them was poor. Why did they do it? Paul the Apostle had struggled with the same problem:
Although I want to do good, evil is right there with me. For in my inner being I delight in God's law; but I see another law at work in me, waging war against the law of my mind and making me a prisoner of the law of sin at work within me. What a wretched man I am! Who will rescue me from this body that is subject to death? Thanks be to God, who delivers me through Jesus Christ our Lord! (Romans 7:21-25)
The Original Sin
Augustine, as a biblical exegete, and like so many other Christian intellectuals, turned to Genesis, the beginning of all creation, to analyze how evil came into the world and why humans sin. The Church Fathers of the 2nd century CE interpreted the story of Adam and Eve in the Garden of Eden to claim that Eve was seduced by the serpent (now the Devil in Christian theology), who then seduced Adam into disobedience. The seduction introduced the passion of lust (and shame) into human intercourse. However, this sin of lust was a necessary evil, to populate the world (and to grow the Church).
Augustine extended the concept through an idea that we term genetics. God created human genitals, and the first commandment was to be fruitful and multiply. Augustine claimed that this human activity originally was to be a natural function of humans, like walking or eating. The first couple's intercourse with lust produced a black stain on the soul of the first fetus, which was passed down to all humans. This introduced the Christian concept of human sexuality as sin, and without using the term, humans inherited a 'sin gene.' Located in the semen, it was transmitted to the woman, and so both were guilty. This was how Paul's 'law of sin' (power of sin) entered the human race. This became the doctrine of Original Sin.Adam & EvePeter Paul Rubens (Public Domain)
Augustine's concept of Original Sin was an incredibly fatalistic view of humankind. He referred to humans as the 'condemned masses' because we are conceived in sin, and thus damned from the moment of conception. Baptism was required as the initiation ritual that admitted you to the Church to wash away this Original Sin, but it did not eliminate the human proclivity for evil. As he knew, baptized Christians (like himself) continued to sin in both body and mind.
Citing Paul again, he claimed that the only thing that can save humans is the grace of God (Greek: chairs, "gift") when God sent Christ into the world. This was truly a gift because humans, being condemned, could never achieve salvation on their own merits. Humans remain unreconciled without grace. Grace can only come from God (from outside the earth) as the world is totally corrupted by evil.
AUGUSTINE ARGUED THAT GOD HAD GIVEN THE FIRST COUPLE FREE WILL, BUT LIKE IMMORTALITY, IT WAS ALSO LOST IN EDEN.
Evil arose from the human weakness of willpower in both physical and mental aspects: the desire to satisfy bodily instincts and the desire to disobey for its own sake (the way in which Augustine understood the stealing of the pears.) Sin is the inability to resist temptation. Matter itself is not evil, but overindulgence in matter and one's attitude toward matter can be evil. Humans are held responsible for evil and will be judged by God. Because God is omniscient (all-knowing), God already knows who will be saved and who will be damned. This idea was challenged by other bishops and Christian intellectuals.
Pelagius (354-418 CE), was a British monk who taught that when God created the first humans, he gave them free will because God did not want slaves (an idea not technically stated in Genesis). Humans are free to choose good and evil because of free will, not because of their inherent evil nature from conception. Augustine argued that God had given the first couple free will, but like immortality, it was also lost in Eden. Humans only have the freedom to choose evil; in relation to the good, God through grace, chooses them. Pelagius was condemned as a heretic in 415 CE, and so Augustine won the day.
The Donatists
After Constantine's Conversion to Christianity in 312 CE, the bishops asked him to mediate a controversy among the churches. During the last persecution under Diocletian (302/306 CE), some bishops had committed apostasy by offering sacrifices to the gods of the Roman religion. Schism had resulted in the debate over whether or not to readmit these bishops to their former standing. Constantine made the decision to forgive and forget, in his larger goal of church unity.
Bishop Donatus of Rome did not agree. He literally moved his community to North Africa and created separate Donatist Churches. Donatus argued that Christian clergy must be faultless for their ministry to be effective and their prayers and sacraments to be valid. The church must be a church of saints, not sinners, and sacraments administered by any previous traditores (the compromisers) were invalid. Donatist clergy and monks, known as Circumcellions, attacked and robbed clergy living in high-life styles, distributed their money to the poor, and often attacked pagan shrines so that they would be arrested and executed to achieve martyrdom.St. AugustineSint-Katelijne-Waver (CC BY-NC-ND)
Augustine held a series of town hall meetings and campaigned against the Donatists. His response to the readmission of lapsed clergy was an analogy of Noah's Ark, just as the ark had both clean and unclean animals, so the Church will always have sinners and saints. The later Council of Trent (1545-1563), utilizing Augustine, taught that the value of the sacraments does not depend on the status of the celebrant, but on the worth of the victim and on the dignity of the chief-priest, Jesus Christ himself.
Bishop Ambrose had several run-ins with Emperor Theodosius I (r. 379-395 CE), at one point ex-communicating the emperor. Explaining this, Ambrose developed his idea of church-state relations; the state was created in Eden to carry out the dictates of the Church. Borrowing the same concept, in 410 CE, Augustine petitioned Emperor Honorius (r. 393-423) to send in the Roman army against the Donatists (citing Luke 16:23, "compel them to come in"). Donatist churches were destroyed and their clergy massacred. The slaughter at times was so great that even Augustine protested.
The Barbarian Invasions & The City of God
Augustine's struggles and reflections on personal spiritual enlightenment did not take place in a vacuum. Church councils continued to condemn existing heresies that often changed depending upon the beliefs of subsequent emperors. Many of the debates resulted in excommunications of bishops and often ended in violence. Augustine's attempts to present a coherent system based upon Christian adaptations to traditional philosophy and Roman culture focused on individual salvation in light of the evils of this age.
In the 5th century CE, the Roman Empire was besieged by continuing invasions of Goths, Visigoths, and Vandals. The trauma of the sack of Rome 410 CE by Alaric I, motivated remaining non-Christians to claim that it was the fault of Christians for angering the gods. Augustine's second great opus, On the City of God Against the Pagans (413-426 CE) was his response to these critics. Considered another classic in Western thought, Augustine finetuned his earlier writings on the suffering of the righteous, the existence of evil, the conflict between free will and divine omniscience, and the concept of Original Sin. Its value is found in his arguments for the superiority of Christian philosophy over other schools and his skill in summarizing and chronicling earlier philosophical treatises.Saint Augustine in His CellSandro Botticelli (Public Domain)
The book presented human history as a universal conflict between God and the Devil. The 'earthly city' is defined as one of corruption and evil, where people immerse themselves in the cares and pleasures of the present world, while the 'city of God,' a new Jerusalem, contains those who devote themselves to the eternal truth of God and the eventual heavenly realm for all believers.
Turning the criticism on its head, Augustine wrote that Christianity did not cause the sacking of Rome. The pagan gods often failed to protect Rome against disasters and military defeats such as the sack of Rome by the Gauls, 390 BCE. And despite their gods, Roman society had devolved into sexual immorality, corruption, and violence. Rather, God, in his foreknowledge, was responsible for the successes of Rome. He knew that Roman military victories and expansion, with those imperial roads and the conversion of Constantine, would provide a coherent system for the conversion and salvation of the empire.
Just War Theory
The City of God contains what became known as 'just war theory.' To decide whether a war was morally justifiable, Augustine applied the criteria of the right to go to war and right conduct in a war. He reviewed ancient traditions and philosophical writings on war as he developed his views. He concluded that individuals should not commit violence on their own. God gave the sword to governments, validated by Paul in his letter to the Romans 13:4:
For the one in authority is God's servant for your good. But if you do wrong, be afraid, for rulers do not bear the sword for no reason. They are God's servants, agents of wrath to bring punishment on the wrongdoer.
Augustine's 'just war theory' was reviewed and adapted for centuries where it most likely influenced the later Geneva Conventions (1939-1945) that addressed war crimes, the protections for prisoners of war, and the treatment of civilians during wartime.
The City of God was instrumental with the later scholastics and humanists of the Middle Ages. Both Anselm of Canterbury (1033-1109) and Thomas Aquinas (1225-1274) applied Augustinian arguments to their ideas of merging faith with reason.
Augustine died in 430 CE, with the Vandals at the gates of Hippo. Augustine lamented not the invasion per se, but that the Vandals (Arian Christians) were heretics. He ordered his monks to protect his library, which was transferred to Europe and beyond. He was canonized as a saint by popular acclamation and declared a Doctor of the Church by Pope Boniface VIII in 1298.
Did you like this definition?
RELATED CONTENT BOOKS CITE THIS WORK LICENSE
EDITORIAL REVIEWThis article has been reviewed for accuracy, reliability and adherence to academic standards prior to publication.
Questions & Answers
What is Saint Augustine known for?
Augustine of Hippo is extolled as the greatest of the Christian Church Fathers. He developed what would become known as systematic theology, or an explanation of how Christianity fits into views of the universe, creation, and humankind's relationship with God. Two of Augustine's works are considered classics of Western literature: Confessions, which is deemed the first autobiography in the West, and City of God.
Why is Augustine called Hippo?
Hippo was a town in Roman North Africa. Augustine was elected bishop there, built his own monastery, and became renowned for his sermons and teaching.
What is Saint Augustine's theory?
Augustine of Hippo developed the concept of the Original Sin, believed that humans were held responsible for evil and would be judged by God who already knows who will be saved and who will be damned. His City of God contains what became known as 'just war theory' applying the criteria of the right to go to war and right conduct in a war.
Bibliography
Translations
We want people all over the world to learn about history. Help us and translate this definition into another language! So far, we have translated it to: Spanish, French
About the Author
Rebecca I. Denova, Ph.D. is Emeritus Professor of Early Christianity in the Department of Religious Studies, University of Pittsburgh. She has recently completed a textbook, "The Origins of Christianity and the New Testament" (Wiley-Blackwell)
Related Content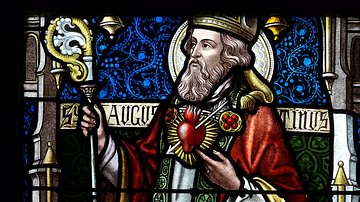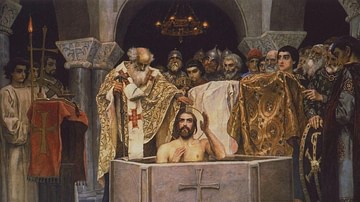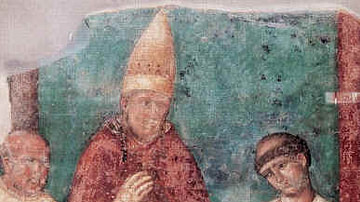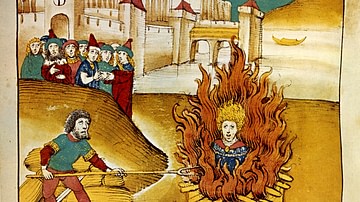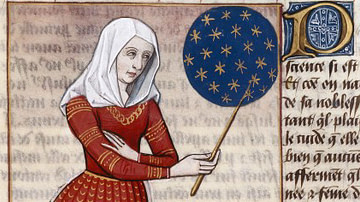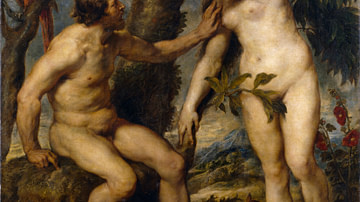 ArticleSaint Augustine of Hippo & His Confession of FaithFew theologians have attained as much renown and influence in history… DefinitionThe Medieval ChurchReligious practice in medieval Europe (c. 476-1500) was dominated… ArticleUnam Sanctam: Spiritual Authority & the Medieval ChurchThe medieval Church developed and retained its power by encouraging… ArticleSix Great Heresies of the Middle AgesThe medieval Church established its monopoly over the spiritual… ArticleTen Should-Be Famous Women of Early ChristianityWomen feature prominently in the gospels and Book of Acts of the… ArticleThe Christian Concept of Human Sexuality as SinIn the ancient world, human sexuality was crucial for the survival…Next ›Last »
Free for the World, Supported by You
World History Encyclopedia is a non-profit organization. For only $5 per month you can become a member and support our mission to engage people with cultural heritage and to improve history education worldwide.BECOME A MEMBER DONATE
Recommended Books
Written by Donald S. Gochberg, published by Harcourt Brace Jovanovich (1988)
$125.25
Cite This Work
APA Style
MLA Style
Denova, Rebecca. "Augustine of Hippo." World History Encyclopedia. World History Encyclopedia, 25 Mar 2022. Web. 28 Mar 2022.
License
Written by Rebecca Denova, published on 25 March 2022 under the following license: Creative Commons Attribution-NonCommercial-ShareAlike. This license lets others remix, tweak, and build upon this content non-commercially, as long as they credit the author and license their new creations under the identical terms. When republishing on the web a hyperlink back to the original content source URL must be included. Please note that content linked from this page may have different licensing terms.
Timeline
Free Newsletter
Our latest articles delivered to your inbox, once a week:
Are you a…?History EnthusiastTeacherStudentLibrarian
Support Us
We are a non-profit organization.
Our mission is to engage people with cultural heritage and to improve history education worldwide. Please support World History Encyclopedia Foundation. Thank you!DONATE
ADVERTISEMENT