Slothfulness and idleness do not bring any rewards. Think about it – how is a man going to achieve any gains if he spends his days sleeping? Those who are unmotivated end up suffering. While we need sleep, too much sleep will render us useless. In the same way, we need food, but those who are idle do not work. If one does not work, then he will not be able to eat. In your spiritual life, these same metaphors apply. Those who do not care about their spiritual lives will suffer and perish because of it.
Dear God, thank you for sending your son, Jesus Christ, to save us from our sins and show us what true love looks like. As we go through our days, give us eyes to see those who need your love today. Help us to help those who are suffering and forgotten. Let us be your hands and feet, O Lord. And, Father, forgive us for the times we have had evil thoughts against anyone else. We know we are all your children and we are precious to you, so remind us to treat others as you would treat them. In Jesus' name, Amen.
"So now there is no condemnation for those who belong to Christ Jesus." Romans 8:1 NLT
Scanning through social media, I landed on a post about a group of misbehaving teens. The comments that followed showed frustration with their actions.
As I read, a knot grew in the pit of my stomach because it brought back memories of my own questionable choices. Choices I wish I could take back or at least get a do-over. But I couldn't. So those feelings of guilt came creeping back without warning.
When we give our lives over to Jesus and accept God's gift of eternal life, God forgives us. No doubt about it. Yet the consequences of past sins may last beyond what our grieving hearts can handle. So, what do we do when guilt surfaces, long after we've become new creations in Christ? Is there a way to live in peace, knowing the wrongs of our past?
"So now there is no condemnation for those who belong to Christ Jesus." Romans 8:1 NLT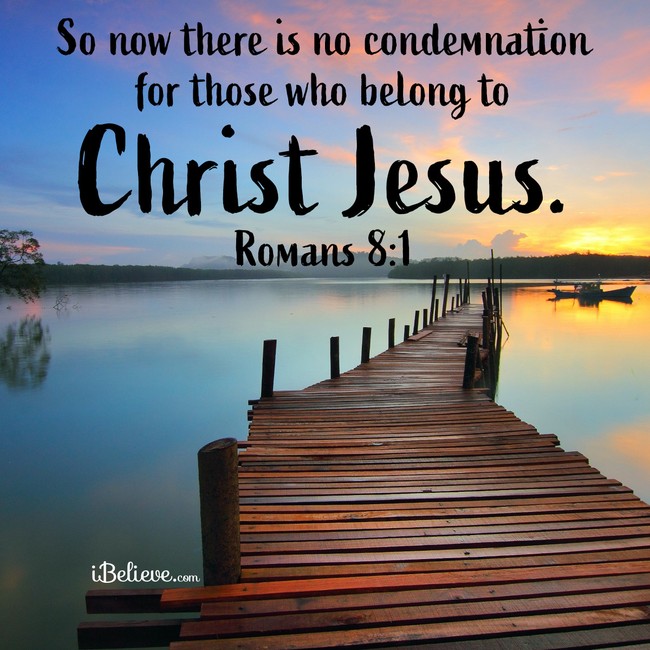 Because we have been shown extravagant love, we are called to love others. When we think of those society tends to forget (the widows, the orphans, the strangers, and the poor), it is up to us to extend love, mercy, and compassion. But, this verse also goes further than just helping those in need, we must also avoid even thinking evil against others in are heart. Our hearts should be brimming over with love and compassion because we are Christ followers.
Dear God, it is easy to have days when we do not want to do anything, but we know having this attitude can have long-term effects. Help us to seek you rather than grow stagnant or complacent about you. Forgive us for the times when our slothfulness has kept us from doing as we should and prevented us from growing in our spiritual lives. Thank you for your forgiveness and for renewing our spirits. Help me to be motivated to give my best to my job, studies and spiritual life in order to serve you. In Jesus' name, amen.