Faith will eventually bring into reality what we have hoped for.
There are times when our world seems overwhelming. As a pro-life advocate, I've always been a little confused by pro-choice logic. Until I read the 10 Commandments. God gave us 10 commands that we are to follow through life. A pregnancy is not unplanned. God has a plan for everything. All things are possible with God for the believer and non-believer. People do change their minds when they are confronted with the truth. The brutal reality killing babies is murder, no matter the age. God breath life into Adam and made woman out of flesh and bone. The thinking of the humanrace is ignorance. Humans think they breath everyday on their own.
Be Confident in Your Ability to Defend the Unborn
Being a pro-life advocate can be challenging. Our mission to defend the unborn can sometimes feel like an uphill battle because our culture has accepted the abortion agenda and has lost its respect for life.
With the abortion industry continues to fill the minds of Americans with lies, there is a critical need for reliable information about the abortion epidemic and its far-reaching consequences so that we, as pro-life supporters, can take action for the most vulnerable among us – the unborn. Each day that we remain silent, 2,500 babies die from abortion.
As a pro-life advocate, this doesn't sit well with you. The good news is that you can do something about it.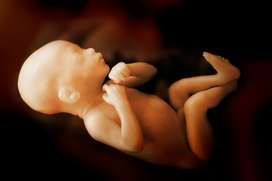 Be Confident in Your Ability to Defend the Unborn
Being a pro-life advocate can be challenging. Our mission to defend the unborn can sometimes feel like an uphill battle because our culture has accepted the abortion agenda and has lost its respect for life.
Care Net has put together an easy way for you to be confident in your ability to defend the unborn and compassionately engage our culture about abortion – a free online course!
With more than 40 years of serving women and men at pregnancy centers across North America, the experts at Care Net have carefully put together this course to:
arm you with trusted facts on abortion and the industry
equip you to confidently and lovingly stand for the unborn
Abortion must come to an end, but the first step to make this happen is for pro-life advocates to learn how to confidently and effectively communicate the reality of abortion. (note: this is not a comprehensive training for pregnancy center professionals — for such training, click here)
Here is what people who have taken the course are saying about it:
"I think this class is essential. Thank you for putting together this tangible resource so more people will choose life!"
"I liked hearing about how something as simple as getting the facts on abortion can change a person's mind if they want to have an abortion or not."
You can defend the unborn and compassionately engage our culture – ultimately saving more babies from abortion through the information in this free online course!
Perhaps I shouldn't be surprised that an organization whose primary business is the slaughter of human life before birth would also be calloused to human life after birth.
But facts regarding the tragic death of Tonya Reaves in Chicago, Illinois have left me horrified about the utter heartlessness with which Planned Parenthood can treat even their paying clients.
The twenty-four year old woman went to Planned Parenthood in Chicago for an abortion at 11:00 a.m.
By 11:00 p.m., she was pronounced dead.
According to their website, this Planned Parenthood location doesn't perform surgical abortions. Yet somehow, Tonya Reaves was given an incomplete surgical abortion that perforated her uterus.
And when it was discovered that this young woman was hemorrhaging, what did this abortion mill's "caring" staff do? Nothing!
Tonya Reaves was left to hemorrhage on her own in a recovery room . . . for over five hours.
As if that wasn't bad enough, when someone at Planned Parenthood finally did decide to take the bleeding woman to the emergency room, they simply dropped her off with no one to care for her.
She was abandoned at the emergency room with no one from the clinic around to give instructions to the staff as they scrambled to discover what was wrong with Reaves.
It wasn't until later that they discovered the severe internal bleeding. By then, it was too late.
Despite the best efforts of the hospital staff, Tonya Reaves died.
So the next time you see the media talk about the "war on women" and falsely claim that Planned Parenthood fights for women, remember Tonya Reaves and the millions of innocent unborn babies they have put to death.
These past two years have seen many crucial battles for the pro-life movement.
In the last Congress, you and I garnered a record number of cosponsors for our Life at Conception Act, and are poised to make pro-abortion politicians pay a heavy political price in 2022 for their insistence on taxpayer funding of abortion.
With Joe Biden in the White House, and pro-abortion majorities in both houses of Congress, there are many challenges ahead. But at NPLA, we believe that the best defense is a strong offense.
If pro-life activists across America mobilize, Biden's worst schemes can surely be stopped.
But only if — and today I'm worried.
You see, I want to be absolutely sure you received an important message I sent you recently.
At that time, I asked you to renew your membership in the National Pro-Life Alliance.
But this past week, I double-checked my records and, unless we missed it, I still haven't heard from you.
If you have already responded, then forgive me for writing you so soon. But I didn't want to take the chance of losing you in 2021.
Delana, you are very important to the pro-life cause and all we are fighting for.
So if you haven't yet renewed your membership, I urge you to take this opportunity now. I can't stress enough the urgency of you responding today.
Your decision to stay with us advances the National Pro-Life Alliance's Legislative Plan against abortion-on-demand in ways that can't be counted.
Now the support you've given to the efforts of the National Pro-Life Alliance is more important than ever through 2021 and beyond.
There is no question that pro-lifers will continue to face threats and challenges from the abortion lobby.
But clearly, you and I now have new opportunities.
The fact is, National Pro-Life Alliance's mass mobilization mailings, combined with your activism, helped elevate a whole crop of new pro-life heroes to Congress.
But we cannot afford to stop now.
With so many new Members of Congress claiming they are pro-life, it is vitally important that you and I push to get them on record by insisting they cosponsor and vote for effective pro-life protections like a Life at Conception Act.
That's why it is so important you and I not only reject the abortion lobby's agenda, but force roll-call votes on a Life at Conception Act to ultimately end all abortion-on-demand.
And, of course, the beauty of a Life at Conception Act is that it is designed to use Roe v. Wade's own wording to ultimately end abortion-on-demand by guaranteeing all persons — including unborn children — are protected by the Fourteenth Amendment.
The fact is, the very Supreme Court that wrote Roe v. Wade in 1973 admitted in that decision that no such "right" to an abortion would exist if Congress were to establish unborn children as "persons."
The ultimate passage of this bill and ending all abortion remains the top legislative priority for your National Pro-Life Alliance.
Meanwhile, we as pro-lifers must also force votes to ultimately end the more than half a billion in tax dollars every year that is still channeled to abortion providers like Planned Parenthood.
You can be proud of what you have accomplished . . .
. . . and encouraged about what your grassroots pressure can achieve throughout this year.
Your financial help will allow the National Pro-Life Alliance to run the most hard-hitting and aggressive lobbying campaign possible in Washington, D.C.
With targeted TV, newspaper, Internet and radio ads funded by your contributions, you and I can keep the pressure on wavering politicians.
NPLA's combined federal and state-by-state strategy of targeted mail, follow-up phone calls and media is very effective, but it is also time-consuming and costly.
With Congress in session, it's crucial you and I intensify our grassroots efforts immediately.
But the National Pro-Life Alliance is caught in a financial bind. I can't afford to cut back in any area because all our lobbying programs are so critical.
We must mobilize massive grassroots pressure to:
*** Maximize the number of cosponsors of the Life at Conception Act to force votes and ultimately end abortion-on-demand.
*** Force votes in both Houses on the Parental Notification and Intervention Act, which would empower parents to stop an abortion from being performed on their minor daughter.
*** Push for public debate on the Heartbeat Protection Act to demonstrate to the American people that as early as two or three weeks the unborn have a heartbeat.
*** Help cut off taxpayer funding of abortion at the state and local level.Politicians from both political parties — particularly those newly elected who claim to be pro-life — must know that you and I will be demanding they make good on their promises.
We cannot allow the work you and I do defending the innocent unborn to be neglected even for a minute. We've made tremendous strides in the fight to save the lives of the innocent since you joined the National Pro-Life Alliance, and I pray you will continue as a member.
The National Pro-Life Alliance owes its existence to you.
In my earlier letter, I told you how critical your contribution is.
Because of your past support for our programs, I didn't want you to miss this opportunity. So I asked Jenni to reach out again.
But we still didn't see your contribution.
You're a vital member of the team, so I hope I'm not out of line in asking for your help again. But whatever you send, you'll be a member in good standing for 2021.
Even with just $10, please do what you can.
I know, together, you and I can ultimately end abortion-on-demand.
But I can't do it alone. I need you with me. Please don't abandon our fight now. Renew your membership today.
Sincerely,
P.S. You can be proud of what your National Pro-Life Alliance has accomplished, mobilizing a record level of support for the Life at Conception Act and pushing for action on other pro-life measures to expose pro-abortion radicals.
It would be a shame to lose you now, after we've come this far. Please renew your 2021 National Pro-Life Alliance membership with any contribution at once.
Scripture:If you obey my commands, you will remain in My love, just as I have obeyed my Father's commands and remain in His love. I have told you this so that My joy may be in you and that your joy may be complete. (John 15:10)