Thanksgiving has always been among my favorite days of the year. Even as a child, I remember the joy of getting up early to watch the Thanksgiving Day parade, and then meeting with family to gather around the table for the most massive meal we would see all year. It was also one of the few times that we would all hold hands and 'say grace' before eating. After that was the tradition of Thanksgiving Day football featuring the Detroit Lions, who have played a game on each Thanksgiving Day since 1934. Like every other kid in America, I also was excited to have a couple of days out of school, during which I would gather up some friends to play a few games of street football. We were not the Detroit Lions, but we sure felt like we were.
!Fellowship of Praise: ALL praise to God our Reason, Hallelujah!!! | November 16, 2021 at 9:34 pm | Categories: Love | URL: https://wp.me/p9m2fm-9odCommentSee all comments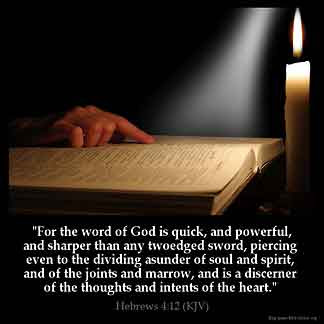 God has put His Word in our hearts and in our mouths and sent us as saviours to our world. Put God's Word into action today.
You have heard [these things foretold], now you see this fulfillment. And will you not bear witness to it? I show you specified new things from this time forth, even hidden things [kept in reserve] which you have not known (Isaiah 48:6 AMPC).
When you read our opening scripture further into the 7th verse, you'd observe that the "specified new things" Isaiah spoke of were created by the prophetic word: "They are created now [called into being by the prophetic word]…" (Isaiah 48:7 AMPC).
The prophetic word is the "rhema" of God that's put in your mouth, words that you speak for God. These are utterances the Lord gives you by His Spirit; they come from the inner recesses of your spirit.
Remember, your spirit was created by the Word of God, and the Word lives in you (1 Peter 1:23).
Also, the Word, the "logos" of God that dwells inside you sees, understands and knows all things: "For the word of God is quick, and powerful, and sharper than any twoedged sword, piercing even to the dividing asunder of soul and spirit, and of the joints and marrow, and is a discerner of the thoughts and intents of the heart. Neither is there any creature that is not manifest in his sight: but all things are naked and opened unto the eyes of him with whom we have to do" (Hebrews 4:12-13). How then do you bring these things that the Word sees, understands and knows, to pass? It's by the prophetic words you utter by the Holy Spirit that's in you.
The Bible says, "And it shall come to pass in the last days, saith God, I will pour out of my Spirit upon all flesh: and your sons and your daughters shall prophesy…" (Acts 2:17). This doesn't only apply to your personal life; you can direct the very course of this world by the prophetic word. For example, when the governments of nations, leaders of industries, and others gang up against the Church, take up words from the Spirit and utter them in faith. We're not hamstrung; we know what to do to alter events and cause things to align with God's perfect will! He sent us as His witnesses and as His ministers.
God has put His Word in our hearts and in our mouths and sent us as saviours to our world, just like Obadiah, the prophet, said, "And saviours shall come up on mount Zion…" (Obadiah 1:21). Through your words—the prophetic word—make things right in your life, in your home, in your ministry, job, business, city, and nation. Hallelujah!
CONFESSION
I declare that Jesus is Lord over all; He's Lord over and above every government and authority and power and lordship and every name that is named, not only in this age, but also in the one about to come.
Christ reigns and rules in and through me and in all the world. Amen.
1 Corinthians 2:9-13 But as it is written, Eye hath not seen, nor ear heard, neither have entered into the heart of man, the things which God hath prepared for them that love him. 10 But God hath revealed [them] unto us by his Spirit: for the Spirit searcheth all things, yea, the deep things of God. 11 For what man knoweth the things of a man, save the spirit of man which is in him? even so the things of God knoweth no man, but the Spirit of God. 12 Now we have received, not the spirit of the world, but the spirit which is of God; that we might know the things that are freely given to us of God. 13 Which things also we speak, not in the words which man's wisdom teacheth, but which the Holy Ghost teacheth; comparing spiritual things with spiritual.
1 Corinthians 14:39 Wherefore, brethren, covet to prophesy, and forbid not to speak with tongues.
Joel 2:28 And it shall come to pass afterward, [that] I will pour out my spirit upon all flesh; and your sons and your daughters shall prophesy, your old men shall dream dreams, your young men shall see visions:
Ephesians 3:1-21
Isaiah 19-22
John 1:14-21
1 Kings 1
Thank You Jesus.
Jesus Loves You.
Until you are born again, God ever abiding presence will never be with you. You must be born again to enjoy continuous victory. Please say the displayed prayer below in faith:
Lord Jesus, come into my life. I accept You as my Lord and Personal Saviour. I believe in my heart You died and rose from the dead to save me. Thank You Lord for saving me, in Jesus name Amen.
Father! In The Mighty Name Of Jesus Christ Your Son! We Cover Your Son Pastor E A Adeboye With The Precious Blood Of Jesus! He Shall Finish Strong, To Your Glory Through Christ Jesus Our Lord And Saviour! Amen!
May God Bless Israel, Nigeria, And America And Take Care Of Us; May God Make His Face Shine Upon Us, And Be Gracious To Us; May The Lord Lift Up His Countenance Upon Us, And Give Us Peace, In Jesus Christ Name, We Pray! Amen!
May The Grace The Lord Jesus Christ, And The Love Of God, And The Fellowship Of The Holy Spirit Be With You All. Amen!
Support Our Ministry
Good Morning Dear!
To Help Us Continue In The Spreading Of The Gospel Of Our Lord Jesus Christ To Every Corner Of This World.
Thank You Very Much For Your Support!
May God We Serve Bless You A Million Times In Return! Amen!
---
---
​
Behind all of that was the story of the Pilgrims, and the first Thanksgiving in 1621, celebrating the first harvest of their young colony in the New World, and their relationship with Squanto and the Wampanoag tribe. Thanksgiving was certainly not complete without thoughts and depictions of what that day must have been like. Of course, the Thanksgiving ended also meant the countdown to Christmas had begun! All of this went together to create a unique time of year, and it still does.https://buy.tinypass.com/checkout/offer/show?displayMode=inline&containerSelector=.swn-mop-premium&templateId=OT2FS1C4JDYU&offerId=OF52B94K797R&formNameByTermId=%7B%7D&hideCompletedFields=true&showCloseButton=false&experienceId=EXG7FI12JA65&widget=offer&iframeId=offer-0-QxKpm&url=https%3A%2F%2Fwww.crosswalk.com%2Fspecial-coverage%2Fthanksgiving%2Fwhy-you-should-read-psalm-100-this-thanksgiving.html%3Futm_source%3DDaily%2520Bible%2520Living%26utm_campaign%3DDaily%2520Bible%2520Living%2520-%2520BibleStudyTools.com%26utm_medium%3Demail%26utm_content%3D5596774%26recip%3D551203242%26ID%3Ded791a2d34944bc091aafb5f649452fecfb24a71ec0ae44ccf5b1c5f162a3de3&parentDualScreenLeft=0&parentDualScreenTop=0&parentWidth=335&parentHeight=652&parentOuterHeight=622&aid=IKC2tj9wpu&pianoIdUrl=https%3A%2F%2Fid.tinypass.com%2Fid%2F&userProvider=piano_id&userToken=&customCookies=%7B%7D&hasLoginRequiredCallback=true&initMode=context&width=300&_qh=437d1c9f8b